A Cultural Ambassador in London – Interview in The Voice
Published in The Voice, Botswana on Friday 23rd October 2015.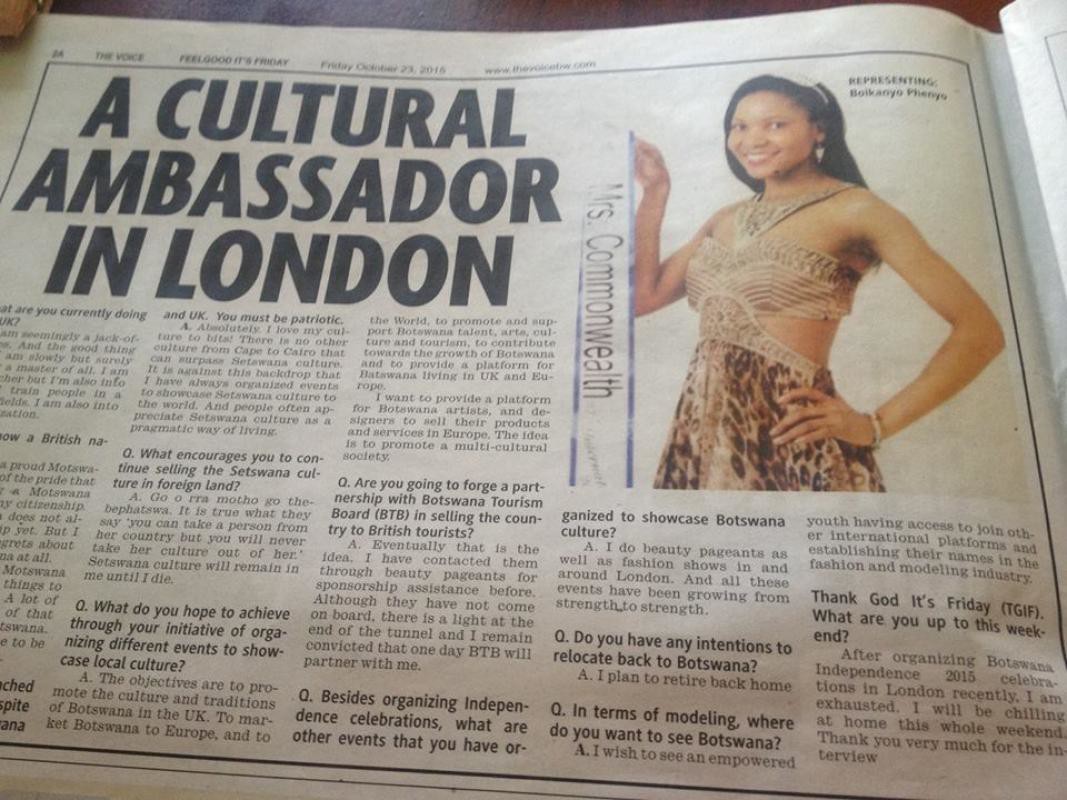 Transcript:
A CULTURAL AMBASSADOR IN LONDON
(Published in The Voice Botswana on 23rd Ocober 2015)
Ms. Boikanyo Phenyo was born and bred in the resort township of Maun in the northwestern part of Botswana.

She graduated with a Diploma in Education and proceeded to join thousands of others in the teaching profession.
Phenyo then decided to search for greener pastures outside the country. She landed in the UK, settled in London and took up her teaching career once again.
But instead of simply being an educationist, the versatile woman also became a Setswana Culture Ambassador.
Every year this time, Phenyo organizes cultural events with the aim of bringing Batswana living in the UK together alongside other African brothers and sisters.
She also uses the events to expose the British to Setswana culture and her host country have come to show great appreciation for Botswana culture and that of Africa in general.
SHINGIRAI MADONDO had this interview with Phenyo recently.
Q. Where were you born?
I was born in Maun.
Q. When and why did you move to the UK?
I left Botswana for the United Kingdom in 2003.
I migrated to the UK for two reasons; being born and bred in the resort township of Maun, I am adventurous so I moved both out of adventure and the desire to further my studies.
Q: What are you currently doing in the UK?
I am seemingly a jack-of-all-trades. And the good thing is that I am slowly but surely becoming a master of all. I am still a teacher but I'm also into training. I train people in a number of fields. I am also into event organization.
Q. Are you now a British national?
I am still a proud Motswana. It is because of the pride that goes with being a Motswana that I still hold my citizenship. Besides, Botswana does not allow dual citizenship yet. But I do not have any regrets about remaining a Motswana at all. In fact being a Motswana is one of the greatest things to have happened to me. A lot of good things come out of that semi-arid nation of Botswana. It is always good and nice to be associated with diamonds.
Q. You have remained attached to the Setswana culture despite the distance between Botswana and UK. You must be patriotic.
Absolutely. I love my culture to bits! There is no other culture from Cape to Cairo that can surpass Setswana culture. It is against this backdrop that I have always organized events to showcase Setswana culture to the world. And people often appreciate Setswana culture as a pragmatic way of living.
Q. What encourages you to continue selling the Setswana culture in foreign land?
Go o rra motho go thebephatswa. It is true what they say 'you can take a person from her country but you will never take her culture out of her.' Setswana culture will remain in me until I die.
Q. What do you hope to achieve through your initiative of organizing different events to showcase local culture?
The objectives are to promote the culture and traditions of Botswana in the UK. To market Botswana to Europe, and to the World, to promote and support Botswana talent, arts, culture and tourism, to contribute towards the growth of Botswana and to provide a platform for Batswana living in UK and Europe. I want to provide a platform for Botswana artists, and designers to sell their products and services in Europe. The idea is to promote a multi-cultural society.
Q. Are you going to forge a partnership with Botswana Tourism Board (BTB) in selling the country to British tourists?
Eventually that is the idea. I have contacted them through beauty pageants for sponsorship assistance before. Although they have not come on board, there is a light at the end of the tunnel and I remain convicted that one day BTB will partner with me.
Q. Besides organizing Independence celebrations, what are other events that you have organized to showcase Botswana culture?
I do beauty pageants as well as fashion shows in and around London. And all these events have been growing from strength to strength.
Q. Do you have any intentions to relocate back to Botswana?
I plan to retire back home
Q: In terms of modeling, where do you want to see Botswana?
I wish to see an empowered youth having with access to join other international platforms and establishing their names in the fashion and modeling industry.
Q: Thank God It's Friday (TGIF). What are you up to this weekend?
After organizing Botswana Independence 2015 celebrations in London recently, I am exhausted.
I will be chilling at home this whole weekend. Thank you very much for the interview.